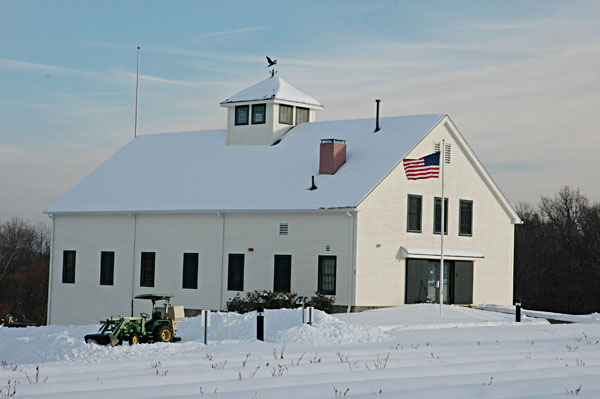 The Brigham Hill Community Barn is owned by Crater-Ferraro Realty, LLC, leased to Yesod Foundation, Inc., a nonprofit charitable foundation, and sub-let to Community Harvest Project which maintains the facility for charitable, civic and educational purposes.
The barn was built to enhance and preserve the interpersonal connections which make our community work. Starting in 2001, an advisory council worked with the principals of Crater-Ferraro Realty, LLC to conceive a facility that could meet a broad range of the venue needs for local organizations, while also supporting the work of the surrounding farm. This advisory council included:
Kenneth C. Crater
Board President, Worcester County Food Bank
Mary Flynn
President, Grafton Historical Society
Marian Hazzard
Teacher, Touchstone Community School
Jean McMurray
Executive Director, Worcester County Food Bank
Dr. Clark Nicklow
Executive Director, Food For The Needy, Inc.
Christopher Noonan
President, Preservation Services, Inc.
Dr. Lester Tobias
Psychologist, Nordli Wilson Associates
Richard Zajchowski
Head, Touchstone Community School
From 2001 to 2002, the barn was constructed by R.H. White Construction, with design services provided by Dixon Salo Architects, and timber framing engineered and fabricated by Vermont Timber Works. For an illustrated narrative of the barn's construction, see our Construction Story page.
Upon completion, the barn became the headquarters of two nonprofit organizations - Community Harvest Project and Grafton Land Trust. In 2007, the owners donated a conservation restriction on the surrounding farm to the Grafton Land Trust, ensuring that the property will be forever protected from development.
In 2014, recognizing the increased use of the barn for the ongoing operations of Community Harvest Project, the barn and surrounding farm was sub-let to that organization, with the understanding that it would continue to be made available to other local organizations as a meeting and event space.
---